Meet Sunshine, a female gardener who runs one of the most traditional farms in Humboldt County. Learn more with her traditional and careful cultivation techniques that give rise to new different strains.
While driving down the Avenue of the Giants in Humboldt County, you might never imagine that one right turn would take you to cannabis lovers paradise. Holmes flat is part of the Emerald Triangle, surrounded by the majestic Redwood Trees, that are famous for the stunning landscapes and the fertile land that enchants whoever drives trough.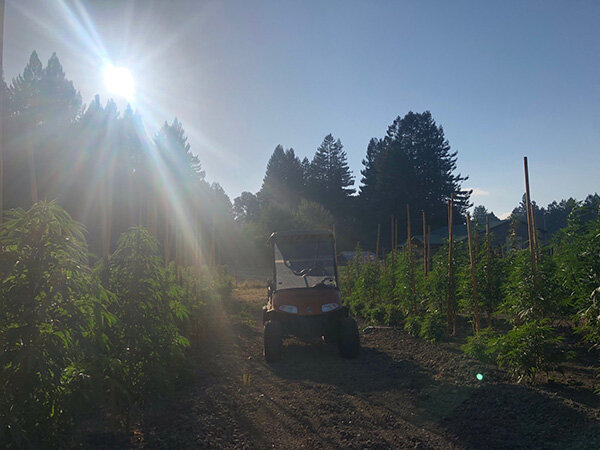 We went for a visit at Sunboldt Grown Farm on mid August to have a conversation with the leading farmer, Sunshine. She welcomed us with an exciting golf ride tour around the farm and in her house while hosting a famous annual barbecue. Nothing better than this, smoking a dry farmed joint, grown surrounded by the Redwood forest to create the perfect setting to have a talk about her stunning work.
Sunshine and the dry farming
Sunshine grew her first plant at the age of 14, taught by her mom. She got to Humboldt County with 7 years old, and was raised around activists in an outlaw community setting. It's very clear that she is a very powerful woman and an old school farmer, as she would say, an OG (Original Gardener). Probably one of the explanations why she grows her crop in a different way, dry farming it all.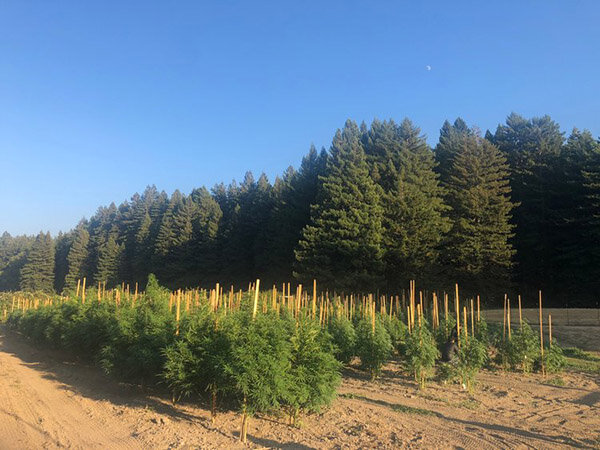 The dry farming technique has a very long history, it has been used for years, especially in the Mediterranean region and in Northern California coastal places. This technique, as crazy as it seems uses no irrigation at all, it relies fully on the rain. The plants absorb all the nutrients and water from the soil and air moisture. Some of the finest Californian wines are grown using this technique and Sunshine has adapted it for Cannabis as the master gardener she is.
To make dry farming possible, the micro climate where you grow is what matters the most. Sunboldt Grown farm is located in a flat area in the middle of a Redwood Forest, a very moist fertile land from the ancient Old Growth. Very close to the property there's also the Eel River. As the plants fight for the water conserved in the well prepared soil, they become stronger and develop a stunning cannabinoid and terpene profile – it's the real taste of the forest.
Benefits and specifics of the technique
The plants love it, and better than that, is the most sustainable way of growing cannabis because there is no waste. No water, no artificial lights, no fertilizers, no herbicides, no greenhouses. Everything is made outdoors, really connected to the sun, nature, all its cycles and processes.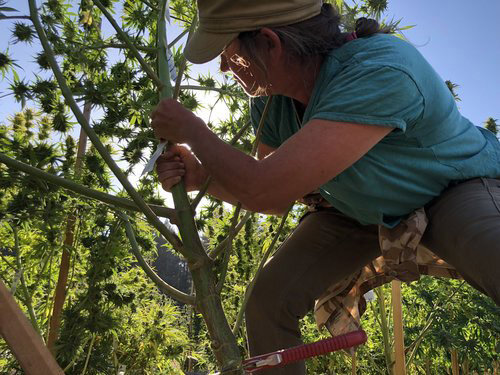 The work starts as soon as the last crop is out of the ground (end of october/early november), the preparation of the soil is made with a Cover Crop that balances the nutrients and fix nitrogen. Different vegetables, beans, grasses are the ones that are trusted to compost their own ground.
Sunshine also has her own strains, she makes her crosses prioritizing seeds with high flavor and oil production. Everything is made from the seed other than the famous Loopy Fruit. The seeds are germinated from mid February to May 1st in very small pots, that will be on the ground in June. From June to mid november the small trees will grow into beautiful big trees, full of smelly flowers and with minimal handling. Cropping starts as soon as Sunshine feels that the trichomes are ripe enough, since it's a craft production, the decisions are made mostly each plant at a time. Taking the moisture and the weather in consideration to prevent mold and other plagues.
Once dry, the crop will be sent for flower production, bubble hash and a few other products that will be sold at dispensaries.
The strains of Sunshine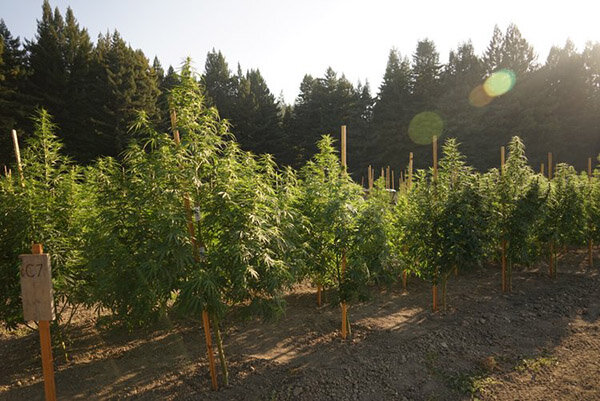 After a few years gardening others strains, Sunshine has been developing her own strains for a couple of years now, she tries to balance mainly THC and CBD strains so she gets different effects every year and it has been phenomenal. We were lucky enough to smoke some of her strains then and we were mind blown by it! Outdoor flowers do have a different effect than the indoor ones, but when they are cared for by a leading female protagonist, with such traditional and caring farming technique, we believe they get to taste even better!
Now, a year later, Sunshine will launch her first product within the new legal market regulations.
We wrote all this information in honor of such a farmer who follows her principles and ideas always focused on the sustainability and growth of plants in harmony with nature.
Both of us from Girls in Green are wishing Sunboldtgrown success, today is an important step for her within the regulated market in the state of California.