It is necessary to break the myth that cannabis is the gateway to other "stronger drugs" when, in fact, it has been a great tool as a way out of other substances, such as alcohol, crack cocaine and opioids
One of the most common phrases that we hear from our parents and even from society is that "cannabis is the gateway to other substances" possibly more harmful to the body, and that would be one of the main arguments against legalization and regulation. In fact, this is nothing more than a prohibitionist anecdote – the kind of thing that is said to keep people in fear, without much explanation, and is so repeated, it is taken for granted. And here we are, as always, to tell you: it is not really like that.
Since the prohibition of cannabis in the world until today, there have been several studies that prove that cannabis can be a great ally in Harm Reduction – especially when we talk about dependence on substances whose regular uses present serious risks. It has been used in research around the world to help users of intravenous drugs, such as opioids (heroin and others), cocaine, etc.
Do you want to understand this logic better? We will tell you here!
Crack versus cannabis
Just as intravenous drugs became a huge public health issue in the mid-1980s (largely due to the transmission of HIV & AIDS), the use of crack became an issue public health had its eyes open in 1990s. The drug can be extremely harmful to the body, mainly if consumed in excess, since it inhibits the recapture of neurotransmitters by presynaptic receptors, and can cause a series of neurological manifestations such as stroke, increases heart rate and blood pressure, and may culminate in ischemia and acute heart attacks heart.
In addition, as we know, the violence that the war on drugs brings to users in vulnerable situations ends up making most of the fatal victims. According to a Unifesp survey regarding the causes of death of users of this substance, about 57% of users are murdered.
Cannabis entered this context as a harm reduction agent. The theme of substance replacement therapy is not new, we always heard about the famous methadone for heroin users. In this case, this special plant comes into play to help in the process of reducing or even abstinence from crack. Relieving craving sensations, minimizing withdrawal symptoms, and thus helping to reduce vulnerabilities.
One of the first Brazilians to conduct studies of this type was the psychiatrist Dartiu Xavier da Silveira, director of the Orientation and Treatment Program for Dependents at the Federal University of São Paulo (Unifesp), in the mid-90s. The experience consisted of offering cannabis to a group of 50 crack users. According to the data, 68% had switched drugs after six months. After a year, whoever made the replacement also left cannabis.
The 20 patients chosen for the study stated that cannabis reduced crack cravings, whetted their appetite and allowed them to sleep better. Users, individuals between 16 and 28 years old, underwent a test, in which they smoked an average of three cannabis cigarettes a day.
According to psychiatrists, after three months of follow-up, 14 of them had significantly decreased the use of crack. At the end of a year, the 14 reported that they were no longer smoking crack and the use of cannabis would have been reduced to one or two cigarettes a week.
Xavier is quite categorical when he says that the controlled use of cannabis can be a solution to this and other problems, in a sphere of Harm Reduction. He warns that the substance also does not come without risks – but that they are much smaller compared to others. Most of the community's resistance stems from stereotypes.
Although the group was small, the success of this experiment opened the door for even more studies – in Brazil and worldwide.
Today's research
These days we saw a wonderful LIVE by professor Andréia Galassi together with Cannabicas Women. Thus, we are informed about the research that is going on. Last year, in 2019, professor and researcher at the University of Brasilia (UnB) Andreia Galassi achieved an unprecedented breakthrough: the authorization of the Health Surveillance Agency (Anvisa) to import cannabidiol, a substance derived from cannabis, for research purposes . Although it has already advanced in the country, the use of the substance is extremely bureaucratic, and this achievement took three long years.
The results of this study may revolutionize the treatment of addicted to crack and other drugs. That's because he will be a pioneer in testing the effects of CBD – cannabidiol – in recovering from this type of addiction!
The survey will select 80 people, aged between 18 and 65, who have been crack users for at least one year. The volunteers will be treated for eleven weeks, within their routine – without the need for hospitalization. The idea is that it will be possible to reduce anxiety, fissure, withdrawal syndrome and even decrease the demand for the drug.
Those selected will be divided into two groups: one will receive conventional treatment, already offered by SUS, while the other will be treated with CBD – without patients knowing what medication they are taking. If cannabidiol treatment is proven to be more effective, the study will be expanded with new volunteers.
While we look forward to the results of this research, we already have other victories to celebrate!
One way to leave opioids
The United States is experiencing an intense issue with opioid abuse. The high prescription of these pain medications in the country makes many people find it difficult to deal with the use of these substances. In most cases, users can enter addiction situations quickly even after apparently "harmless" use, such as when treating fractures or other similar conditions.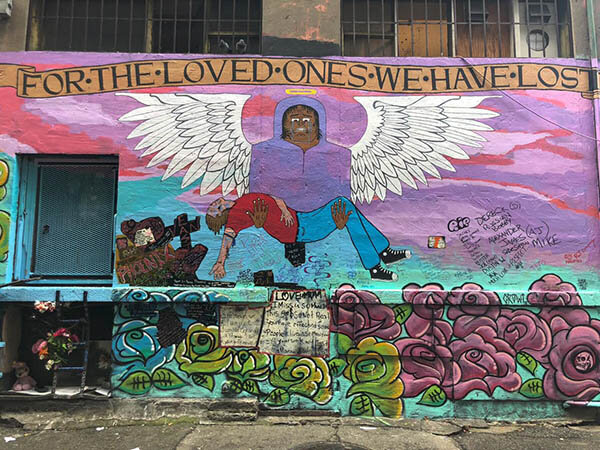 Nearly half a million Americans have died of an overdose in the past decade, and preliminary data suggest that another 69,000 people died in 2019. The opioid epidemic was declared a national emergency in the country in 2017, but the government does not provide the necessary support for organizations who ca take comprehensive action. According to experts, to reverse the situation, it would be necessary to invest about $ 50 billion a year. The White House earmarked just $ 7.4 billion in 2018.
A growing group of opioid users across the country find relief in medical cannabis. The Manhattan dispensary is conducting a pilot study of customers who also use opioids. These preliminary data, finding that cannabis helped most opioid users, were encouraging enough to spur on a much larger project – the first federal study funded with medical cannabis to combat the high numbers of classified heroin addiction and pain killers.
The $ 238,000 study funded by the National Drug Abuse Institute (NIDA) will follow more than 10,000 medical cannabis patients in New York over the next two years to see if opioid use decreases.
Cannabis is legal and regulated in different American states, and these researches have been shown to be effective in different parts of the country. In 2016, there were already studies placing cannabis as a safer and more effective treatment for chronic pain than opioids, with a much lower chance of addiction – that is, of the user's loss of ability to manage the substance.
GG experience: High Hopes, Canada
As many may already know, Alice (our grower and one of our cannabis experts) who has a degree in psychology, and Harm Reduction has always been very present in her studies and life experiences. Interning and working in Psychosocial Care Centers (CAPS) here in Brazil, she can closely observe patients who are users of crack and other substances, and how the consequences of drug policies affect these users. She mentioned how some users of the public health system reported how much cannabis reduced craving sensations, and the anxiety present in withdrawal.
In 2017, GG got to know the work of the Overdose Prevention Center, which had in one arm a project called High Hopes, which sought to offer affordable, or even free, cannabis products to Canadians as an alternative to opiates. President Sarah Blyth, also founder of the Vancouver Overdoses Prevention Society, said the goal is to raise awareness among users and provide access to other options for pain management, in addition to street drugs – many with fentanyl, highly harmful and fatal in several cases.
This Harm Reduction action, although previously authorized, was closed by police action. And this is not uncommon – even for a country where the substance is now regulated.
The history of DR is permeated by misinformation, which qualifies the practice as an apology for the use of drugs. For us, it is an apology for care: starting from the point that the use of psychoactive substances has always existed since the beginning of civilizations, our goal is to ensure that users have all the information available, for a conscious use of risks, respecting their wills and their ability to make their own decisions.
The debate is on the table
The negative stigma of cannabis is the biggest reason why it is placed as a gateway to other drugs, not alcohol, for example. To understand why, we need to understand why drugs are banned, and what makes a substance a drug.
How can we say that cannabis is a drug when opiates, as we saw above, are responsible for so many deaths and are still openly prescribed and sold in pharmacies around the world? Is there a comparison?
The truth is that the word drug carries heavy baggage created by prohibitionism. Drugs are simply chemicals, the abuse of which – yes – can be considered dangerous. Our relationship with each substance is what carries a greater or lesser risk burden, so to speak.
Our fight for regulation and Harm Reduction is a way of protecting each individual, who deserves to receive medication with quality control and with all the information necessary to make good use of it. They say the difference between medicine and poison is the dose, and we believe that. Even the most harmless substances can have negative effects, and the job of clarifying these issues is critical.
To fight for legalization is to fight for more research like this, which can help save the lives of many people in vulnerable situations. Let's go together? Along the way, we also brake down prejudices. After all – knowledge is our greatest weapon.
To the next!